MT5 for Android - MetaTrader 5 Platform
Now you can trade forex, stocks, futures, and more anytime andanywhere! Installing MetaTrader5 for Android on your smartphone or tablet allows you to staytuned with important news from the markets and trade whenever you want. MetaTrader5 forAndroid includes Android-native options for all types of devices so our traders can feel incontrol of their accounts.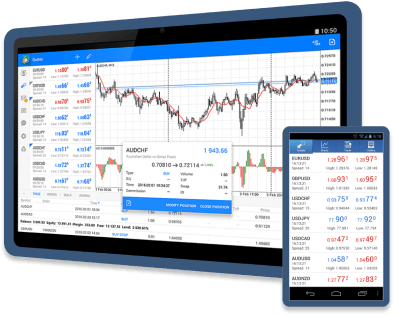 Advantages
Trading currencies and stocks anywhere in the world
Extended version for tablets
A powerful trading system including Market Depth and all types of trading operations
Reliable data protection
Wide range of Technical Indicators
Financial news, alerts, and push notifications
More advantages of MetaTrader 5

Up to 8 Pending Order Types: get precise control over open positions.
Cryptocurrency Trading: enjoy unique crypto features.
One-Click Trading: open a new position with a single click.
Three chart types and nine timeframes (periods)
Clear segregation: between the terms of order, position, and transaction.
Optimized Strategy Tester: Improved testing capabilities for expert advisors anddetailed presentation of results.
Economic Calendar: economic events, data, and indicators in real-time.
Advanced Market Depth and One-Click Trading
Real-time quotes in Market Watch
MT5 iPhone and MT5 iPad - MetaTrader 5 iOS
MetaTrader5 is an institutional multi-asset platform offeringoutstanding trading possibilities and technical analysis tools. MetaTrader 5 iOS is afull-fledged trading app for iOS-powered mobile devices. Carry your trading platform withyou and analyze the markets whenever is most convenient for you. Join over a million usersof Apple devices who have already downloaded the MetaTrader 5 Mobile App.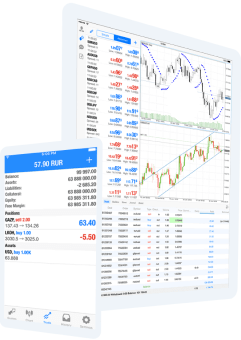 Advantages
Trading currencies and stocks anywhere in the world
Extended version for tablets
A powerful trading system including Market Depth and all types of tradingoperations
Reliable data protection
Wide range of Technical Indicators
Financial news, alerts, and push notifications
More advantages of MetaTrader 5

Up to 8 Pending Order Types: get precise control over open positions.
Cryptocurrency Trading: enjoy unique crypto features.
One-Click Trading: open a new position with a single click.
Three chart types and nine timeframes (periods)
Clear segregation: between the terms of order, position, and transaction.
Optimized Strategy Tester: Improved testing capabilities for expert advisors anddetailed presentation of results.
Economic Calendar: economic events, data, and indicators in real-time.
Advanced Market Depth and One-Click Trading
Real-time quotes in Market Watch